There is a large variety of Liftmaster garage door opener options. This product line of the Chamberlain manufacturing group offers chain drive, belt drive, and screw drive units. It includes wall mount models as well.
Need motor repair? Call our renowned company for all garage door opener services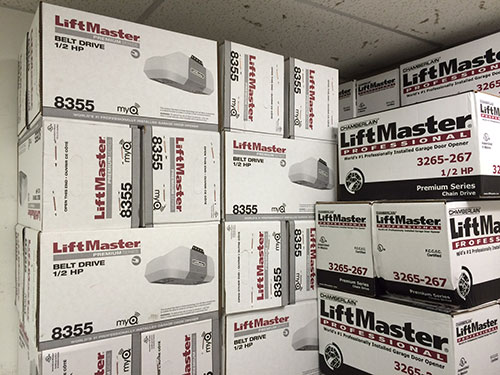 There are two motor options. The DC motors are considered to be quieter and more energy-efficient even though they are equipped with an inverter in order to operate using the AC power from the electrical grid of the building. The AC motors are regarded to be more durable. The main horsepower options include 1/2 and 3/4 horsepower. There are openers with battery backup, designed to power the motor and to enable normal operation when the power is out.
One of the most advanced technologies used in the electric operators of this brand is MyQ. It enables you to monitor the overhead garage door via a smartphone, tablet or computer. There is a special app designed for the purpose. The app can be set to produce notifications regarding the status of the door. It makes it possible for you to operate the automatic door remotely as well. Now the MyQ technology is available with Wi-Fi connection.
Security+ 2.0 is the latest rolling code technology developed by the brand. It produces and sends a new code every time the remote control is used. This makes it impossible for an intruder to learn or guess the code and use it to get inside the garage.
Each Liftmaster garage door opener is equipped with the Protector System. It consists of two safety sensors for detecting objects and people underneath the door during closing. They automatically send a signal to the motor unit and the door reverses.